Chris Schlarb—Musician, Composer, Producer
"I am deeply attracted to simple, beautiful ways to communicate information."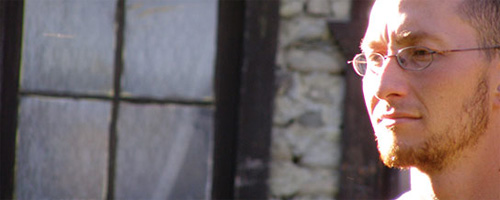 BD: Where do you live and work?
CS: I live in Long Beach, California with my wife and two children. I was born and raised here and have come to appreciate the weather and culture of the city. There is also the convenience of having Los Angeles close by and yet, just far enough away. I mainly work from my home studio but a few times a month I will travel to other locations to record and collaborate with other musicians.
BD: Can you talk a little bit about your music—your influences, your aesthetic, and your artistic journey from there to here?
CS: I started playing electric guitar in high school and recorded with a number of hip-hop and gospel artists before I graduated. As payment for one session I received an old Tascam 424 4-Track. From there I started producing my own music and really digging into audio engineering. I started playing with a lot of local Long Beach musicians who were comfortable mixing jazz, hip-hop, progressive rock and other styles together. I was so interested in the relationship of the instruments that I didn't bother worrying about vocals. Since then I have worked with a number of vocalists in both folk, pop, jazz and punk but my first love seems to be instrumental music.
By the time I was in my early 20's I was listening to a lot of music that I still return to often: Joni Mitchell, John Coltrane, Miles Davis, Allan Holdworth, Steely Dan, Squarepusher and Brian Eno. Since then I have actually be able to perform and collaborate with many musicians who I have called heros (Wilco's Nels Cline, Brian Blade Fellowship's Dave Easley and Mick Rossi of Philip Glass Ensemble). I suppose in some way my music has a certain spiritual connection to those artists. Ultimately, however, I am trying to create something unique. Something that I haven't heard myself.
BD: How do you utilize technology in your work?
CS: I refused to use a computer to record and arrange for many, many years. By the time I took the plunge the technology seemed to be at a place where most of my initial concerns evaporated. I still prefer to work with live musicians and use samples, keyboards and electronic instruments only as tools, not as crutches. My entire recording studio centers around an iMac 2.4GHz Intel Core 2 Duo running Logic with a MOTU interface.
BD: How do you see technology affecting how we communicate, both now and in the future?
CS: With Twitter, email, text and instant messaging we seem to be entering a period of ubiquitous communication. There are positives and negatives to this of course. On one hand it takes only a moment to contact almost anyone you can imagine. On the other hand we find ourselves needing to set up roadblocks in order to actually accomplish something.
BD: How have you applied Bee Docs Timeline?
CS: The first time I saw Bee Docs Timeline I began to think of ways to use it. I am deeply attracted to simple, beautiful ways to communicate information. At the beginning of the year I posted a video timeline of my year in music. I imported all of my music activity from iCal then started removing less important data. What I ended up with was a very clear, easy to follow list of my activities. My wife said she didn't even know about all of the things I had accomplished over the course of the year.
BD: Do you have any personal favorite websites to share?
Here are my sites: